The self storage sector experienced the ups and downs of 2020 along with many other types of commercial real estate. But seeing it's an essential service, helping people in all manner of situations, it managed to ride out the pandemic-induced challenges relatively unscathed. Indeed, by the year's end, street rates had reversed earlier reductions to out-perform 2019's averages, facilities were still being constructed, and sales of facilities had picked up after an earlier slump — and with increased price-tags.
Self storage has always been useful when people move house, providing a temporary space for belongings while a new residence is found or is renovated, and this was also true in 2020 when people needed to relocate due to changes in living arrangements. It also helps when balancing budgets by providing a more permanent place for items such as seasonal clothing and sports equipment — which otherwise take up expensive floor space in a home — and also for vehicles. The industry has grown rapidly during recent years, with developers determined to capitalize on growing demand.
By the end of 2020, 677 storage facilities had changed hands for $3.6B, not so far off 2019's total of 825 facilities for $3.9B. This represented a strong late surge from the sales total of approximately $2.2 billion that had accumulated between January and October of the year. In addition, construction of new storage space was continuing. Street rates of popular storage unit sizes, after many operators had discounted them to maintain occupancy, had increased by 2%-4% year-over-year. But the most dramatic indication of the sector's health is perhaps the 7.6% nationwide average rise in the per-square-foot sales cost of storage.
Eight-Property $540M Deal Makes NYC US's Most Dynamic Market
New York State and California clocked up the highest sales volumes last year, $591M and $500M, respectively. These states tend to be expensive, and putting your car in a garage-sized 10×20 storage unit in the larger cities there can cost several hundred dollars, for example. Two of the ten largest sales were in The Golden State, one in Los Angeles that traded for $92M, which is $1,167.62 per square foot, the highest rate in the nation. The other was a family-run business sold for a healthy $40.50M in the town of Napa — complete with wine storage, of course. Another very pricey transaction occurred in Boston, costing $48.25M at $458.34 per square foot.
The other seven sales in the top ten were all in New York City, some being part of a huge $540M deal in which CubeSmart bought eight properties, totaling 780,425 rentable square feet, from fellow operator Storage Deluxe. This included the nation's biggest sale, a facility costing $123M in the Flushing Neighborhood of Queens, which completed in December. CubeSmart is a REIT with an increasing strong presence in NYC, assisted by recent changes in zoning laws, and with a policy of targeting attractive submarkets with positive demographic trends and strong growth forecasts.
Smaller Markets Excel with Growth in Sales in 2020
In terms of increased sales activity, some smaller states outperformed the large ones in 2020. Trading 686,381 square feet in 2020, Oregon witnessed a four-fold total sales volume increase, rising to $75.9M compared to an annualized 2010-2019 average total of $18.40M. In Alabama, 574,831 square feet changed hands last year for a total of $61.6M, a three-fold increase compared to a yearly sales figure of $17.1M averaged out over 2010-2019.
Las Vegas punches above its weight in terms of storage provision, currently offering 8.4 square feet of storage per person, above the national average of around 7, and sales of facilities totaling $64.3M in 2020. CubeSmart made a $16.80M purchase in March last year, adding to the 12 they already have in the area. Vegas is a good base for RV motoring, for seeing the scenery of nearby California and Arizona not to mention the city's own fabled delights, and a large RV can be safely kept in a 10×30 unit in many local storage facilities.
Construction of Self Storage Space Remains Steady Year-over-Year
Developers have been building smart city-center storage facilities to add to the traditional, out-of-town lock-up garages. They have also found that refurbishing rental space, perhaps in suburban strip malls, pleases not only local clients but also town halls who don't like to see vacant buildings. The amount of self storage planned or under construction nationwide, seen as a fraction of the total inventory, was 8.3% in December, not much down on January 2020's figure of 9.0%. New York and Las Vegas in particular saw plenty of construction in the pipeline, equivalent to more than 18.3% and 14.4% of the current inventory, respectively.
The nationwide year-over-year increase in completed square footage of storage inventory was slightly more than 3%. However, the 45M square feet of storage constructed in 2020 was 13.1% less than 2019's figure. The states with the largest self storage inventories are California and Texas, both with close to a quarter of a billion square feet. It is no surprise that so many of 2020's largest sales were in places with low self storage provision per capita — New York and Boston currently offer just 3.5 and 4.6 square feet, respectively — as investors seek to make up ground in these under-provided markets.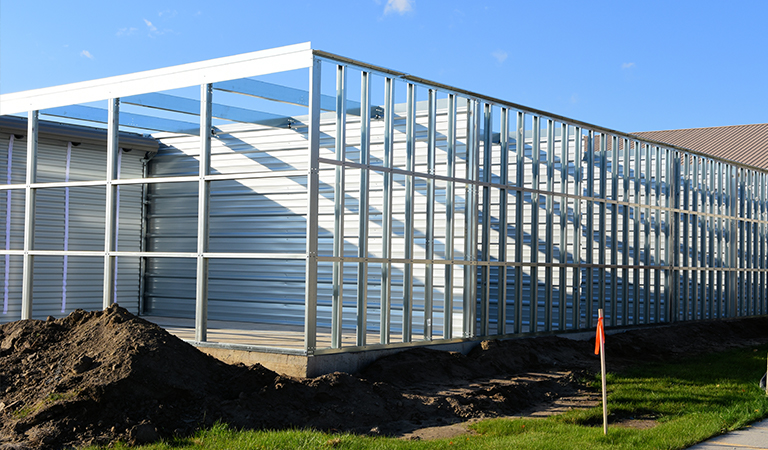 Sale Storage Sale Prices Up More Than 7% Nationwide
The average price of the storage space sold across the nation in 2020 was $80.09 per square foot, a 7.61% increase from the 2019 average of $74.43. Of the states which saw more than a very few storage facilities sold, the greatest increases were seen in Michigan and Connecticut. The former saw 23 facilities change hands at a price per square foot of $79.2, more than treble the 2019 figure of $25.7. The latter, meanwhile, saw the price per square foot almost double year-over-year, from $31.9 to $60.2.
It is interesting to note that the $123M sale in Flushing, NYC, in December last year worked out at $752.3 per square foot, while a storage facility in the same area was bought in 2017 by the same REIT at $245 per square foot, for $27M. A few states saw a decrease in the cost of storage space, with Texas seeing the biggest drop among the larger states, from $23.1 to $10.1 per square foot, probably partly due to the over-saturation of some markets there.
In spite of challenging times last year, the self storage industry came back strongly, pleasing facility operators and continuing to offer clients services that they need. The relatively healthy market activity — which included some very big deals — and the rise in sale prices per square foot bodes well for investors. It remains a reliable sector, with smaller markets often looking at least as good as larger ones. The fact that street rates recovered and that construction of new facilities did not drop significantly during 2020 are further signs that the self storage industry is looking to be in good shape for the year 2021.