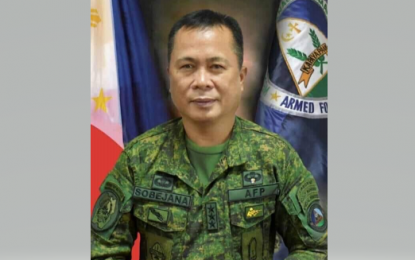 MANILA – Relentless military operations in Sulu played a role in the successful rescue of four kidnapped Indonesians as their efforts forced the Abu Sayyaf Group (ASG) to move out of their comfort zones and mass bases, said Armed Forces of the Philippines (AFP) Chief-of-Staff, Lt. Gen. Cirilito Sobejana, Monday.
"The kidnap victims have been held captive by the ASG for more than a year and through the AFP's relentless efforts, the ASG who were based in Sulu, were driven out of their comfort zones and mass base, which eventually led to the successful rescue operation last week in Tawi-Tawi," Sobejana said.
Earlier, Sobejana and Philippine National Police (PNP) officer-in-charge, Lt. Gen. Guillermo Eleazar, handed over the rescued Indonesians to their embassy representatives during a short ceremony at the General Headquarters Canopy Area, Camp Aguinaldo, Quezon City.
The Indonesian Embassy led by Charge d'affaires, Widya Rahmanto received the kidnap victims.
Also present were Indonesian Defense Attaché, Colonel Reza Suud, and Army Attaché Colonel Sigit Himawan.
The four Indonesians – Riswanto Bin Hayono, Arical Kastamiran, Arsyad Bin Dahalan, and Khairuldin Bin Yai Kii – were flown via a Philippine Air Force C-130 aircraft from Edwin Andrews Air Base in Zamboanga City to Manila on Sunday.
Personnel from the Western Mindanao Command provided security and assistance during their transport.
Hayono, Kastamiran, and Dahalan were among the rescued individuals in South Ubian, Tawi-Tawi evening of March 18 by Tandubas Police.
The 15-year old Yai Kii, on the other hand, was rescued by elements of the Joint Task Force Tawi-Tawi on Sunday in Kalupag Island, Languyan, Tawi-Tawi.
"This (a) noteworthy accomplishment was a concerted effort with our counterparts from the PNP and the Local Government Units in Sulu and Tawi-Tawi. It is a clear manifestation that through cooperation and vigilant support from various stakeholders – through a whole-of-nation approach – we can effectively fight and prevent the spread of terrorism," Sobejana said.
Meanwhile, the Charge d'Affaires of Indonesia to the Philippines extended his highest appreciation to the Government of the Philippines and all respective agencies for rescuing the victims.
He conveyed the acknowledgment of the Indonesian Government for the sincere effort and extraordinary courage of the AFP and the PNP.
On January 17, 2020, Abu Sayyaf terrorists led by sub-leaders Ben Wagas, Apo Mike, and Injam Yadah abducted five Indonesians off the waters of Tambisan, Malaysia.
They were brought to Patikul, Sulu where they experienced 13 encounters between government troops and their captors.
In one of the encounters on September 28, 2020, operating troops recovered the dead body of one Indonesian named Daeng Akbal Labaa during clearing operations.
He was believed to have died of a heart attack. The cadaver was later turned over to Indonesian authorities.
"Given the lessons learned in the past, the AFP has fully recognized that we need to operate, not just as an instrument of war and a tool of policy but as a vital partner in nation-building, as we endeavor to sustain peace and stability for current and future generations of Filipinos," Sobejana said. (PNA)