The development of sustainable public transportation facilities in Indonesia has so far been good, with the country's capital Jakarta recently named the winner of the 2021 Sustainable Transport Award by the Institution for Transportation and Development Policy (ITDP) based in New York, the United States.
Indonesia is the first Southeast Asian country to have received the prestigious award. Indonesia was honored by ITDP for the Jakarta administration's holistic efforts in integrating various transportation modes connecting the capital city and its satellite cities (Bogor, Depok and Bekasi in West Java and Tangerang in Banten), as well as setting up more sidewalks and bike lanes in the city.
The award also seeks to honor the fact that Jakarta is currently developing and testing electric vehicle fleets for its bus rapid transit system Transjakarta, launched in 2004.
This is aligned with President Joko "Jokowi" Widodo's regulation on the development of electric vehicles, issued in 2019 to reduce greenhouse gas emission and air pollution.
To take the development of strong sustainable public transportation infrastructure, Indonesia is stepping up on multi stakeholder cooperation with the support from various countries in the world.
The availability of ample sustainable public transport facilities is essential to reduce the planetary pressures of urbanization. As more and more people migrate to live and work in big Indonesian cities like Jakarta and Surabaya, East Java, the use of private vehicles like cars and motorcycles can actually exacerbate air pollution and greenhouse gas emission.
As we all know, Indonesians rely heavily on private vehicles. Data from the Office of the Coordinating Maritime and Investment Minister reveal that out of Indonesia's total population of over 270 million people, in 2020 about 120.1 million were using motorcycles and 16.10 million were using cars.
Simultaneously, motorcycle sales across Indonesia in 2020 grew by 11 percent year-on-year (yoy). Due to this heavy dependence on private vehicles, the transportation sector in Indonesia accounts for around 70 percent to 80 percent of the total outdoor air pollution level throughout the country. The sector also contributes 23 percent to Indonesia's total greenhouse gas emissions.
Therefore, with the help of multi stakeholder partners from around the world, Indonesia can leverage its sustainable public transportation infrastructure development efforts, which has been on the right track already, to the next high.
Besides mitigating planetary pressures resulting from people's activities in urban spaces, such infrastructure can also boost urbanites' productivity by allowing them to travel efficiently: balancing economic growth and environmental sustainability.
Furthermore, Transportation Ministry Land Transportation secretary-general Budi Setiyadi has said that economic growth will also benefit from people's adoption of public transportation, as it will reduce traffic congestion and minimize accidents, which hampered Indonesia's economy.
In terms of global support, the United Kingdom government, for one, is more than happy to be Indonesia's trusted partner in developing sustainable public transportation infrastructure.
The UK has so many lessons learned and best practices in terms of developing its sustainable public transportation infrastructure over the years.
For instance, the UK capital London has Europe's largest electric bus fleet, with over 200 electric buses and more to come. The UK also has impressive intermodal public transportation integration.
The partnership will be a fruitful one since Indonesia is also striving to accomplish the same feats throughout the country as well, for instance through Transportation Minister Budi Karya Sumadi's efforts in adding more integrated intermodal fleets across Indonesia, especially in the big urban spaces like Palembang, South Sumatra.
"First of all, I'd like to congratulate the government of Jakarta for its longstanding commitment to make Jakarta more sustainable by reducing greenhouse gas emissions and air pollution, through the development of the sustainable public transportation infrastructure. These are essential to provide Indonesians green and clean economic growth," British Ambassador to Indonesia and Timor Leste Owen Jenkins said.
Jenkins spoke on Tuesday during the launch of the electric vehicle fleet development program implemented collaboratively by Transjakarta, British climate change support organization UK PACT, the ITDP and the Jakarta Transportation Agency.
The long-term collaboration will accelerate the production of electric fleets for the Transjakarta buses, specifically through the JakLingko initiative.
The Transjakarta buses play a strategic role in sustainable public transportation development as currently, each Transjakarta bus carries 85 to 160 passengers who commute in the Greater Jakarta area on a daily basis.
True to the idea of sharing best practices and lessons learned, Jenkins said: "through the cooperation, the UK PACT will also help Indonesia transition toward a more sustainable future by providing insights into green financing schemes for electric vehicles".
At the same time, he said that the UK would also share its insights into how to incentivize the private sector to procure the electric vehicles and lobby the government to come up with more supporting policies.
"In the UK alone, we need to have lots of planning on how to also convince the market to adopt electric vehicles," he said.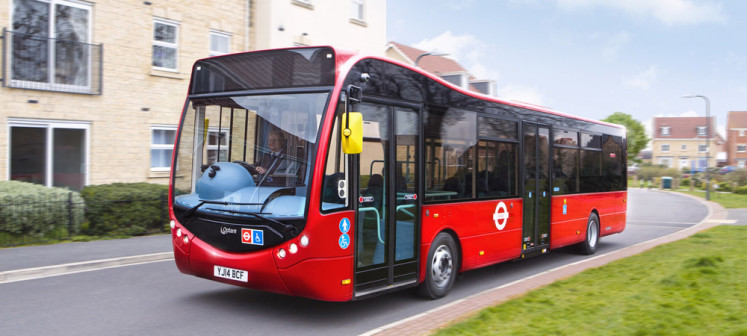 . (./.)
At the same time, the Transportation Ministry is striving to establish more electric vehicle charging stations across Indonesia, while the Finance Ministry has already provided tax incentives for the developers of the batteries.
Furthermore, the Industry Ministry has also stated that currently, three companies are producing electric cars, with a production capacity of 1,200 units per annum. Speaking of global cooperation, the UK also has a number of tried-and-true electric car and train manufacturers who can also serve as Indonesia's potential suppliers.
While the UK government is in full support of electric vehicles for public transportation, bus manufacturers and operators also play a significant role in encouraging people to reduce private car use and getting on board with smarter and greener public transportation as they are keen to contribute to protecting the environment.
Optare, a UK bus manufacturer based in Sherburn-in-Elmet, North Yorkshire, is one example.
Optare supplies all-electric double-decker buses for Transport for London and in 2020, the company partnered with Arcola Energy and launched a hydrogen fuel cell double-decker bus.
To demonstrate its commitment to protecting the environment, Optare manufactures electric buses that have zero tailpipe emissions and help to reduce overall pollution levels, particularly in congested city centers where air pollution has been directly related to severe health problems.
With all the achievements and the ongoing inter stakeholder initiatives, involving global institutions and players combined, Jenkins said he was confident that the Jakarta administration could achieve its ambitious target of electrifying 10,000 of its public buses by 2030.
Along with the expansion of sidewalks and bike lanes, as well as the multimodal public transportation integration in Jakarta and beyond, Indonesia might see a brighter future ahead in its attempt to develop sustainable, liveable urban places.