A judge has declined to release Guy Reffitt back to his family as he awaits trial for participating in the January 6 Capitol riots.
Reffitt, a militia member from Texas, threatened to shoot his teenage son and daughter if they reported him to authorities for his role in the riots. His son turned him in and is now in hiding.
Reffitt and another member of the anti-government Three Percenters militia allegedly drove to Washington D.C. in early January. Reffitt had an AR-15 rifle and a pistol with him, prosecutors said. He also allegedly brought the pistol, wore body armor and carried plastic cuff restraints as he walked towards police protecting the Capitol building on January 6.
After the riots, Reffitt allegedly sent text messages about taking over the Capitol "again" to other supporters of former President Donald Trump. He also texted them about focusing future actions on mainstream media and technology companies, according to court filings from the Justice Department, reported by KTVT.
Upon returning to his Wylie, Texas home, Reffitt threatened to shoot his 16-year-old daughter and 18-year-old son if they reported him to legal authorities. He allegedly told them that doing so would make them traitors and, "Traitors get shot." He also threatened to shoot his daughter's cell phone if she posted on social media about his participation in the riots.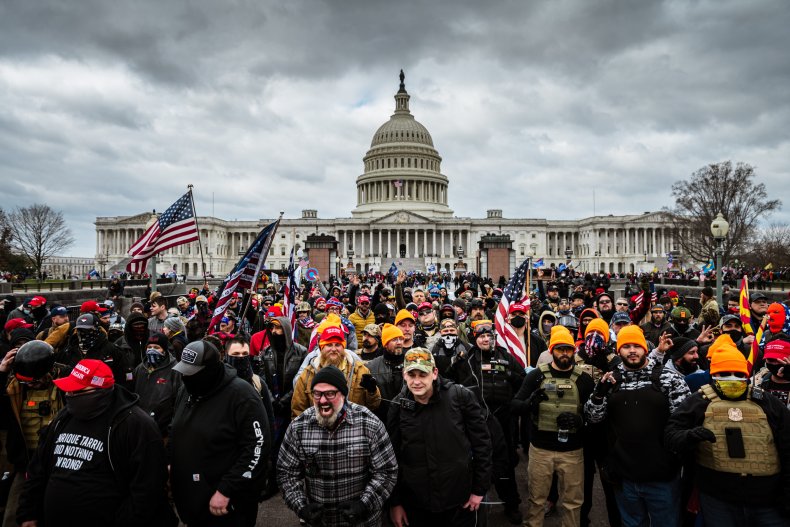 "He's not a violent person. He just says things. He talks a lot," his daughter said during his detention hearing this week. "That's just him being a drama queen. I wasn't in fear, I guess. It was annoying in a way."
Despite that, Reffitt's son reported his father to the FBI and has since left the family's home. The Justice Department says he now lives in an undisclosed location.
The evidence against Reffitt included home audio recordings, in which Reffitt bragged about participating in the riots. In the recordings, he defended his actions and said more anti-government actions would follow. He called the Capitol riots "a preface" to more unrest.
Reffitt's lawyer tried to play off his threats and bragging as "just talk," but Magistrate Judge Zia Faruqui decided to keep him in jail.
"[It] isn't an easy thing to say, but I think it's what the law requires in this case," Faruqui said. "It's clearly caused a tremendous burden to your family." The judge said he viewed him as a possible threat considering his ownership of firearms and his texts about committing future acts.
Reffitt was arrested on January 18. He stands charged with obstruction of justice through threat of physical force, aiding and abetting the obstruction of an official proceeding, as well as entering and remaining in a restricted building or grounds.
The Three-Percenters are an anti-government militia that began in 2009 in response to former President Barack Obama taking office. The militia's name comes from the mistaken belief that only 3 percent of colonists fought against British forces during the Revolutionary War, winning liberty for the other colonists. The Three Percenters view the American Government as tyrannical and intrusive in citizen's lives.
The Three Percenters had at least 330 active groups between 2016 and 2019, according to Mark Pitcavage, an expert with the Anti-Defamation League.
People with ties to The Three Percenters have been arrested for bombing the Al-Farooq Islamic Center in Bloomington, Minnesota; conspiring to kidnap Democratic Michigan Governor Gretchen Whitmer; and planning to bomb a bank in Oklahoma City.
Authorities have arrested at least five people with connections to The Three Percenters for participating in the January 6 insurrection, VICE News reported. The "Three Percenters National Council," which oversaw the group, officially disbanded after the January 6 insurrection.
"The DC riots and Capitol breach has hurt the patriot movement drastically and as a result brought an end to our organization," the Council wrote in a statement near the end of February. "It appears that other 'Three Percenter' groups no longer hold the values and morals that we have held in our organization for so long."
Newsweek contacted the Department of Justice for comment.