Representatives of the Bottineau Blue Line light rail extension project discussed the latest corridor proposal with the public in four town hall sessions on March 25 and 30. The town halls allowed community members to ask questions about the project for the first time since the corridor shift from West Broadway to County Road 81 was announced in mid-March.
The town halls were the next step in a timeline that ends with the adoption of a recommended route by the end of the year. Sophia Ginis, Metro Transit's public involvement manager, said the next "two major decision points" for the proposed rail route are a draft and final report, the last of which would release a recommended route for public comment. Engineering and environmental review of the project will begin in 2022.
One listener asked when the light rail extension might begin taking riders, to which Ginis said opening day projections weren't a serious consideration yet, but project management was hoping for a five- to seven-year time frame.
New Robbinsdale station(s)
Station placement was a commonly asked question. Nick Landwer, the project's engineering and design director, said Brooklyn Park city officials and project management agreed to preserve the four northernmost stations as designed in the previous alignment. This includes stations at Oak Grove, 93rd Avenue, 85th Avenue and Brooklyn Boulevard, which made connections to commercial shopping, areas poised for development, North Hennepin Community College and the Target Corporation's north campus.
However, the proposed corridor begins to depart from its original route in Crystal and Robbinsdale. Landwer said staff members are confident that Crystal's Bass Lake Road station could be preserved to maintain proximity to a park-and-ride facility, but the Robbinsdale station at 42nd and Hubbard avenues would no longer be feasible.
Dan Soler, senior program administrator with Hennepin County, said station locations will be discussed in workshops with downtown business owners and "hopefully" the City Council, potentially putting the station at 42nd, 41st or 40th avenues, or "somewhere between any of those streets." Soler said the goal remains to keep the station in the downtown area.
A viewer asked whether the Robin Center parking lot had been considered, as the lot has the potential to connect two halves of the city.
"Today, no," said Soler. "It's an interesting suggestion."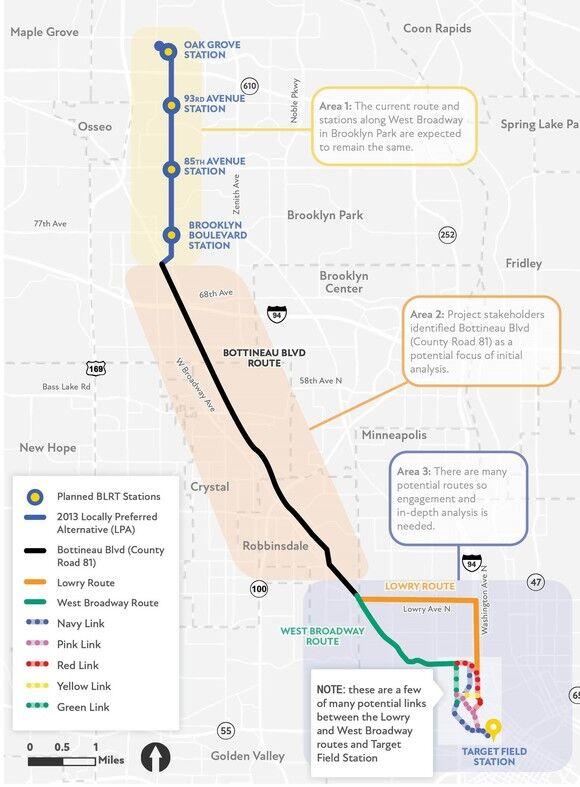 Impact on County Road 81
Viewers wondered how the rail line would navigate the County Road 81 corridor. Landwer said in a Corridor Management Committee meeting March 11 that trains would likely be center-running, at grade along the road to minimize impact and expense. At the March 30 town hall, Landwer said that "everything was on the table."
Soler spoke to a suggestion of having a tunnel between Seventh Avenue and West Broadway.
"A tunnel under 94 would be a lot more difficult than over," Soler said, noting the additional work needed to ensure the soil and bedrock could sustain the line, and that utilities in the ground could be relocated.
Another viewer asked if lanes on County Road 81 would be removed to accommodate the light rail's necessary right-of-way. Soler anticipated that the six-lane roadway north of Highway 100 would be reduced to four lanes, with no lane reductions in Robbinsdale to the south.
Train cars, travel times
The duration of travel was another topic addressed at the town hall. Soler said travel times had not been estimated due to the uncertainty over the number and location of stations, and that project staff members aren't necessarily seeking the fastest rail possible.
"We want to be able to provide a travel time on this alignment that is not so slow that it discourages riders from being on it who may want to go long distances, and not so fast that we bypass stopping and picking people up," Soler said. "We really need to find that sweet spot."
One viewer asked if project staff would consider an express route from Brooklyn Park to the Mall of America. Soler said an express service was not being considered, and the route choice would not be ideal if express service was a priority.
Another viewer asked if the project managers would consider designing rail for four train cars instead of the three that had become standard of the Twin Cities light rail system. Ginis said since the project was tied to the existing light rail, an increase would require the entire system to be retrofitted. Soler added that four-car trains wouldn't fit in block-to-block Minneapolis streets.
"A three-car train is the max, otherwise we're blocking intersections," he said. "While you can see 12-car trains in the New York subway system, that's just not going to be a fact in the Twin Cities."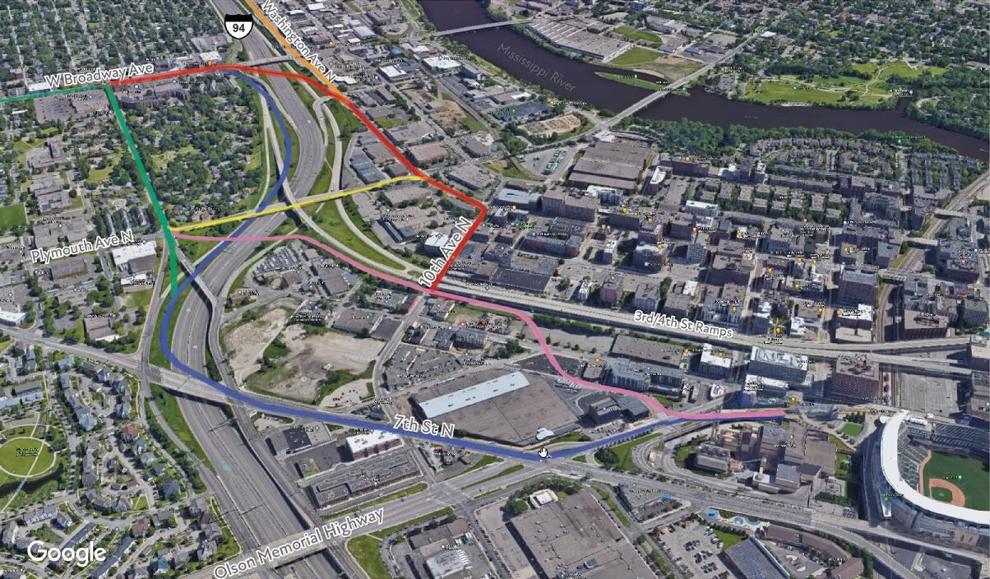 Cost and ridership
A viewer mentioned discomfort with cost when Metro Transit was experiencing significantly low ridership.
Sam O'Connell, Met Council's public involvement manager, said it was "no lie" that ridership was down, but that it was not expected to last too long after the COVID-19 pandemic when "transit drivers" like downtown venues and sports stadium resumed full-capacity activities.
"When we build these [light rail lines], we're doing it for multi-generations, with a significant investment to serve significant communities," she said.
Copyright © 2021 at Sun Newspapers/ APG Media of East Central Minnesota. Digital dissemination of this content without prior written consent is a violation of federal law and may be subject to legal action.