2021 Phil. National Women's Month Celebration
March 1-31, 2021
as reported by Genevieve Balance Kupang
Against the backdrop of the picturesque, majestic mountains, women servant-leaders and the Barangay Health Workers (BHW) of Bila join the 2021 National Women's Month Celebration and the UN International Women's Day on March 8, 2021. It was held at the Iyaman Harmony Farmstead, located in Sanguan, Bila, Bauko, Mountain Province. "While we acknowledge each person's contribution to the world, we cannot deny that a woman's role to humanity is incomparable" avowed Danny Balance, part-owner of the Farmstead who welcomed us in the venue.
Although there are women in some parts of the globe who experience abuses, sexual exploitations, gender discrimination, and violence, it is vital to recognize that in this part of the world women are respected and treated as partners with men. Being self-reliant, these women are village custodians, co-stewards of the ecosystems, and are working together with their male significant others toward a sustainable future. Despite the fact that there may be times when women are not present at every table where decisions are made, women impacted by such decisions are free and open to express their opinions on issues that affect them, are esteemed, and taken seriously for their assessments and judgments.
The observance of this special day for women began with the appreciation of the international and the national themes dubbed "Women in Leadership: Achieving an Equal Future in a Covid19-World," and "Juana Laban Sa Pandemya: Kaya! We Make Change Work for Women" respectively. We offered prayers for our families, women all over the world especially those who are in war-stricken places, the victims of abuse, exploitation, violence, and did a ritual to thank Mother Earth and for her healing. We learned soulful songs, meditated, and exercised together through Qigong.
As mothers and as women, we interchanged family joys and struggles, including an aspect of ourselves which we need to change for the benefit of the loved ones and the Bila community. The offering goes:
We beseech the Spirit of God, shaper of beauty,
And the life-giving presence inherent in creation,
To fire up and sustain our reflection and sharing today,
To weave connections among us, linking us to each other
As women and to the men
Who support and love us, strengthening us from within and without…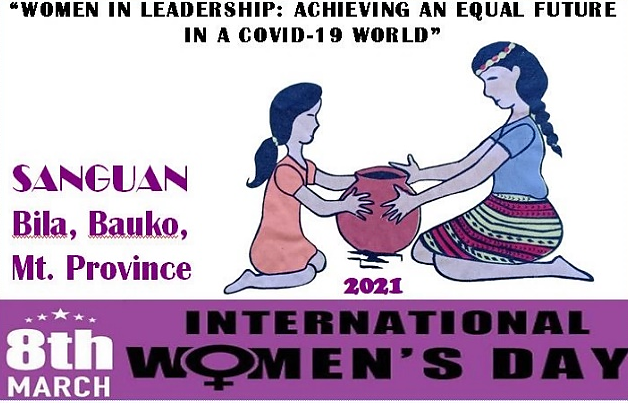 Indigenous woman, child, & pottery design: Ida Mae Cedillo Lataben
During this pandemic, we take to heart the strengthening of our immune system by keeping fit through physical exercises (walking up and down the mountain), eating healthy food, engaging in spiritual nourishment, striving to keep the peace and unity in the family, and imbibing psychological affirmations of the beauty of womanhood. Playing multiple roles, the women acknowledge the need to be in a loving partnership with men, and this makes this celebration extra meaningful as we strive to keep the virus at bay in this corner of the world.
The ritual to acknowledge the interconnectedness of the life-giving woman and Mother Earth labeled "Encircled by Creation" capped the day's activity (adopted from Kozak, P. and Schaffran, 1988, More Than Words, Prayer and Ritual for Inclusive Communities).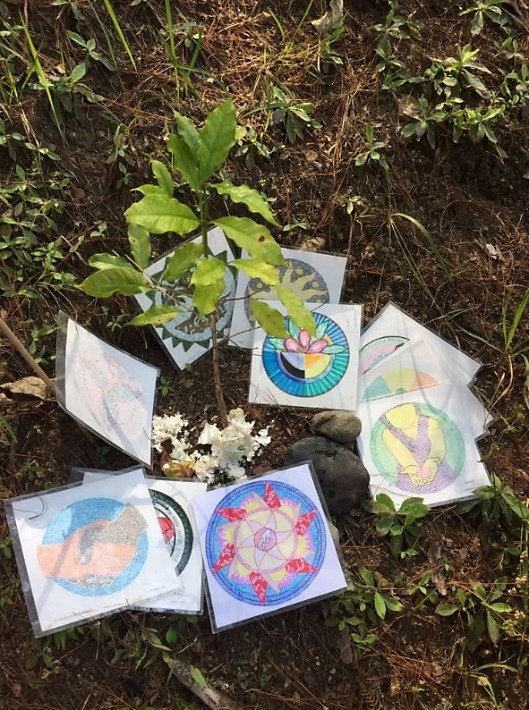 "We pray today,
hoping to become more aware of the wholeness and
holiness that are ours by our very identity as human persons,
by virtue of our creation at hand of a loving God,
and by the power of the dream that lives within us.
We are radically joined with the earth,
A mothering earth from whose womb all life comes,
And whose breast all life returns.
It is by the fruits of this earth we live.
On her lands, we walk and play and love.
We pray that we might walk gently on this earth
That we might read her wisdom in every leaf and rock and field,
And care for her with tender respect.
Today we celebrate the earth and [the gift of womanhood],
Our own physical selves
And all that enables us to find our Creator
In the rich and varied gifts of the universe."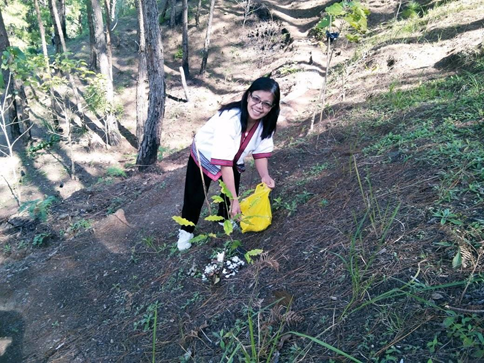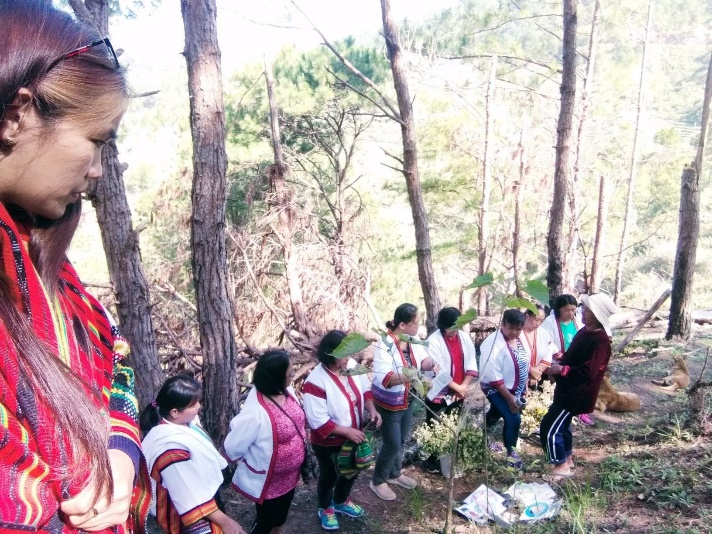 An offering of thanks to Mother Earth and prayer offering that we may walk gently and care for her with gentle respect. Photo credit: Danny Balance and Angela Andrada
"We are grateful for the loving support of Mrs. Marichu Cominga, the head of the Municipal Social Welfare and Development Office of Bauko, Mountain Province."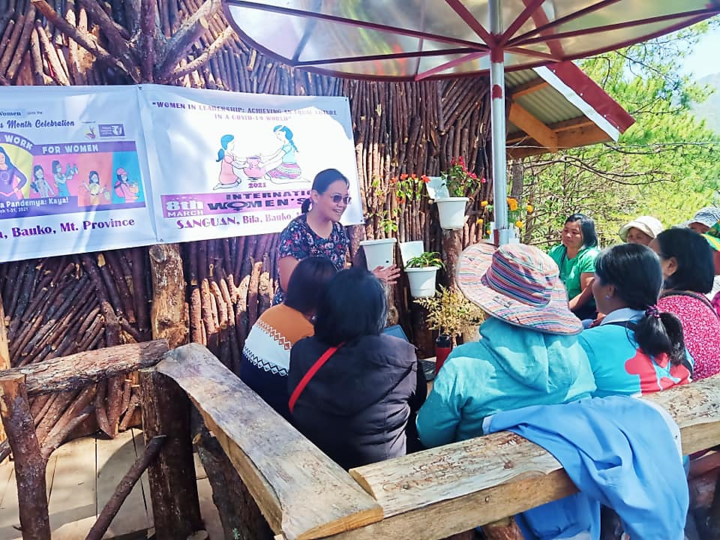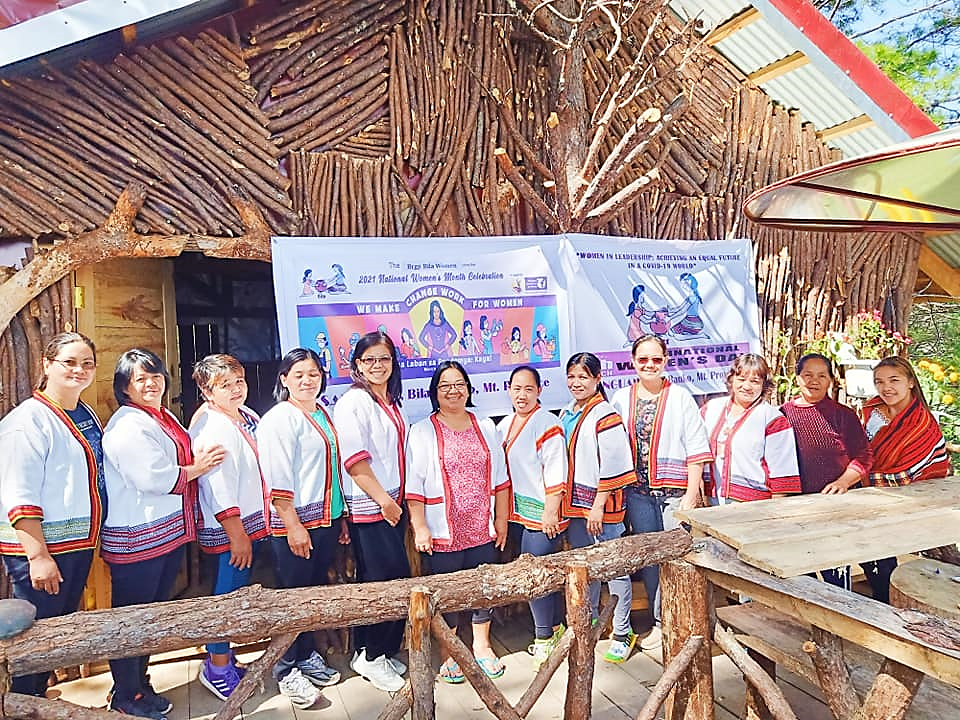 Happy UN International Women's Day!
#Forgingagenderequalworld
#IWD2021
————————————————————————————————————————-
GENEVIEVE BALANCE KUPANG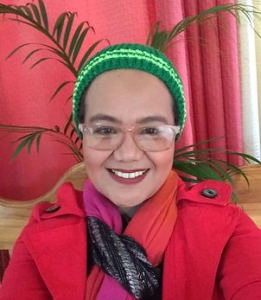 Genevieve Balance Kupang (Genie) is an anthropologist, consultant, researcher, and advisor to individuals and organizations engaged in working for good governance, genuine leadership, justice, the integrity of creation, peace, the indigenous peoples, preservation of cultures, and societal transformation processes. She is a peace educator, author, an interreligious dialogue practitioner, and resource person with a career in the academe and NGO.