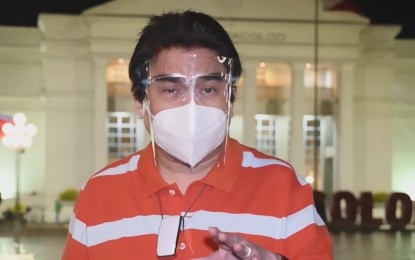 BACOLOD CITY – Mayor Evelio Leonardia has appealed to President Rodrigo Roa Duterte to include the local chief executives (LCEs) in the top vaccine priority group after several city mayors were reported to have been infected by the coronavirus disease 2019 (Covid-19).
Leonardia, the national president of the 145-member League of Cities of the Philippines (LCP), made the request in a letter dated March 31, 2021 addressed to the President, a copy of which was obtained by the Philippine News Agency.
"We appreciate the approval to include the LCEs in the vaccination priority list as Category A4 or frontline personnel in essential sectors. The League, however, is respectfully appealing for the reclassification and inclusion of LCEs as frontline workers to be included in the Priority Group A1, considering the alarming cases of Covid positive mayors throughout the country," he told the Chief Executive.
Some eight city mayors have already been infected since last year, including Emy Calixto-Rubiano of Pasay City; Francis Zamora of San Juan City; Frederick Palanca of Victorias City; Gerald Gullas of Talisay City, Cebu; Joy Belmonte of Quezon City; Cris Garbo of Mabalacat City; Junard Chan of Lapu-Lapu City; and Majul Gandamra of Marawi City.
According to the LCP, Belmonte, Garbo, and Gandamra tested positive only recently and have since undergone the required quarantine procedures.
Leonardia noted that "in the vaccination rollout, city mayors visit the site physically, report to the city hall regularly, and are front and center in this fight against the pandemic."
"Despite their best efforts in observing the minimum health standards, (these) city mayors still contracted the virus. Local chief executives are at great risk of exposure due to the magnitude of their work and thus need to be protected through vaccination immediately. It might also be prudent to inoculate the city mayors now than later to minimize the virus' spread," he added.
Leonardia also said while city halls are not a health facility, it is where decisions are made and instructions are cascaded down to the communities.
"Imagine if we continue to lockdown city halls and conduct massive contract tracing efforts every time a city mayor is diagnosed as Covid-19 positive," he added.
Leonardia further told the President that as the LCP seeks his kind consideration on the matter, the city mayors are committed to continuously work with him and the Inter-Agency Task Force for the Management of Emerging Infectious Diseases to overcome the increasing cases of various variants of Covid-19 in the country. (PNA)